United Nations Declaration of Human Rights
Article 19.
Everyone has the right to freedom of opinion and expression; this right includes freedom to hold opinions without interference and to seek, receive and impart information and ideas through any media and regardless of frontiers
Visit the United Nations' website for the full Declaration of Human Rights
Download a copy of the UNESCO Freedom of Expression Toolkit for Student
Canadian Charter of Rights and Freedoms
Fundamental Freedoms
2. Everyone has the following fundamental freedoms:
(a) freedom of conscience and religion;

(b) freedom of thought, belief, opinion and expression, including freedom of the press and other media of communication;

(c) freedom of peaceful assembly; and

(d) freedom of association.
Visit the Canadian Government's website for the full Charter of Rights of Freedoms.
Canadian Museum of Human Rights
The purpose of the Canadian Museum for Human Rights is to explore the subject ofhuman rights, with special but not exclusive reference to Canada, in order to enhance the public's understanding of human rights, to promote respect for others and to encourage reflection and dialogue (Museums Act).
Visit the Canadian Museum of Human Rights website.
Canadian Civil Liberties Association
According to CCLA, the right to express yourself and form your own opinions is an essential feature of a democracy.  Freedom of expression is a core part of the right to dissent and a basic feature of personal development.  It is only through exposure to different ideas and opinions that each person can make their own informed choices about their core beliefs.  In Canada, section 2(b) of the Charter of Rights and Freedoms protects "freedom of thought, belief, opinion and expression, including freedom of the press and other media of communication".
Restrictions on freedom of expression come in many forms including Criminal Code and Human Rights provisions limiting hate speech, municipal by-laws that regulate signage or where protests may take place, civil defamation (libel) actions, and restrictions placed on press freedoms.  With more and more communication taking place online, government restrictions on access to the internet and the content and filtering policies of private companies also place limits on free expression.  CCLA works to ensure that any limits are reasonable and strictly necessary.
Visit the Canadian Civil Liberties Association website.
Canadian Media Lawyers Association
CMLA members include the very best media lawyers across Canada who are dedicated
to free expression offering support and enhancement of clients' efforts to access information – whether in a court file or in the hands of a public body.  CMLA members share best practices to enhance free expression, not only within Canada but also from below the 49th parallel and across the pond in England and Scotland. In virtually every key free expression decision from the Supreme Court of Canada in the past 20 years, you will find CMLA members as counsel of record.
PEN Canada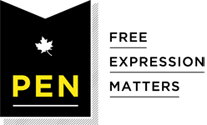 PEN Canada is a nonpartisan organization of writers that works with others to defend freedom of expression as a basic human right, at home and abroad. PEN Canada promotes literature, fights censorship, helps free persecuted writers from prison, and assists writers living in exile in Canada.
Canadian Journalist For Free Expression
CJFE monitors, defends and reports on free expression and access to information in Canada and abroad. Rooted in the field of journalism, we promote a free media as essential to a fair and open society. CJFE boldly champions the free expression rights of all people, and encourages and supports individuals and groups in the protection of their own and others' free expression rights.
Campus Freedom Index
ounded in 2010 as a voice for freedom in Canada's courtrooms, the Justice Centre for Constitutional Freedoms defends the constitutional freedoms of Canadians through litigation and education.
Visit the Campus Freedom Index website.
Freedom House

Freedom House is an independent watchdog organization dedicated to the expansion of freedom and democracy around the world. Freedom House analyzes the challenges to freedom, advocates for greater political rights and civil liberties, and supports front-line activists to defend human rights and promote democratic change.
Visit the Freedom House website.
Visit Freedom House Canada page. and 2017 report .